BRAGS
Onondaga Kennel Association Members
Brags, Brags and More Brags!!!
Hey, Members!
Where are your show wins??
We can't showcase them if you don't send them in!!
Send them to Colleen.
NOVEMBER, 2017
Our Jr. HANDLER Renee McGlone
Will be heading To Eukanuba in Florida
Renee has the #1 Smooth Collie and has made #75 NOH.
Renee has also the first Smooth Collie to gain 1,000
Points for 2017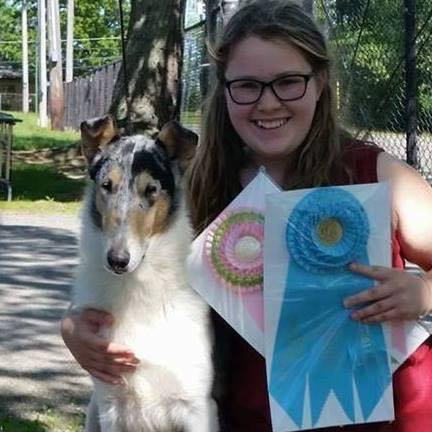 JUNE, 2016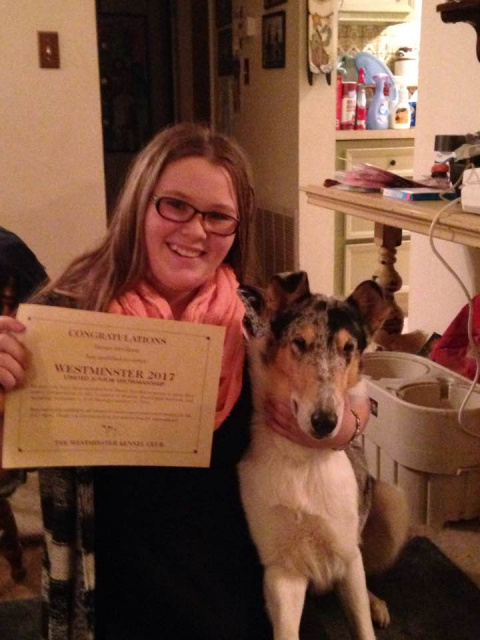 Renee has been very busy this summer and fall. She bred, helped deliver and whelped her very first litter as Suburbia Collies on 6/17/16. The final pup to leave to his new home is just waiting on his furever family to get moved to their new house, hopefully on Dec 10th. Haven will be trained as a service dog for his new owner who suffers from PTSD from his military duties. His trainer has already evaluated him and passed him with flying colors. We can't wait to see him happy and working well with his new owner.
In the last month or so she has received her invitation to the AKC National Championship in Orlando for not only her in Juniors but also for "Dodger" Travler's ZZZ Journey, as the #2 NOHS Smooth Collie in the country. One of the biggest "first time things" is her Invitation to Westminster arrived last week. She will be competing in the Junior's competition and possibly she will show Dodger in Variety but we haven't decided that for sure yet.This past weekend in W. Springfield, MA she won BOV & NOHS Friday & Saturday. Show showed well in groups but didn't place.
On Saturday, she competed in a large junior's group of around 30 kids and won Best Junior. She also qualified to enter the Northeast Regional Junior Finals. 17 jrs entered, she made the cut down to 7, even though she was on Ramone of Dino & Rosanne's who hadn't spent much ring time together besides classes. The top 4 jrs earned scholarships of $1,000, $500, $300 & $200. I'm sure she will be walking out with a scholarship from a limited soon. To top that all off, her puppy "Han" got to go into the ring with Bree Ardizonne to compete in the puppy groups.
Sunday came along and once again the day was great!!! All the entries they were needing to have them in 4 places at once. She got a 2nd (I think) in juniors and Dodger went NOHS again and went on to win Group 1 AND NOHS Reserve Best in Show. It was an insane and very exciting day to say the least!!! I"m attaching a photo below. I don't have other good photos at this time.
Monday Dodger went Select but was still the winner for NOHS. He went on to a group 3.
They were in Syracuse the weekend before and had some good results then too. They started out Friday with a Reserve Best Junior and a group 2.
MARCH, 2015
Travler Collies had a good show at the Collie Club of America National Specialty. "Arrow", Platinum GCH Travler's Pierce Arrow, was BOS to BOV and BOS to BOB (that means he beat the rough males!). His younger full brother, "Driver", Gold GCH Travler Kelise Overdrive, was Select Dog. In the picture, Arrow is really happy he beat his baby brother!
TO SEE PAST "BRAGS" CLICK ON THE LINKS BELOW